A quick story about Faith. When we set up our breeding program, our standard was to only breed dogs whose hips were graded Excellent or Good through the Orthopedic Foundation for Animals. We wanted to be a step above most breeders. I have rehomed a number of females and one male that did not meet my expectations. Then, along came Faith. Faith has a beautiful spirit about her, is gentle and calm. She is one of those dogs that when you look into her eyes, you can see all that is good and wonderful in life. You know what I mean? I loved everything about her. Then we got the dreaded "fair" back on her preliminary hips. It broke my heart (even more than the others I had rehomed) but I had set the bar high for my breeding mamas. I found a home in West Wichita, KS that fell in love with her and sent her home for a trial run. I got a call back a couple weeks later saying she seemed so sad and stayed curled up in her bed in the corner of the living room all the time. Of course, I agreed to take her back but before we could get up there the next day, she escaped out the front door and vanished! After three days and I think all of West Wichita searching, we found her in Sedgwick Park by the zoo. I made her a promise then and there that she would always have a home with me here at DuckCreek. I also broke my rule on "fair" hips…..she is a wonderful mama and produces beautiful, healthy babies.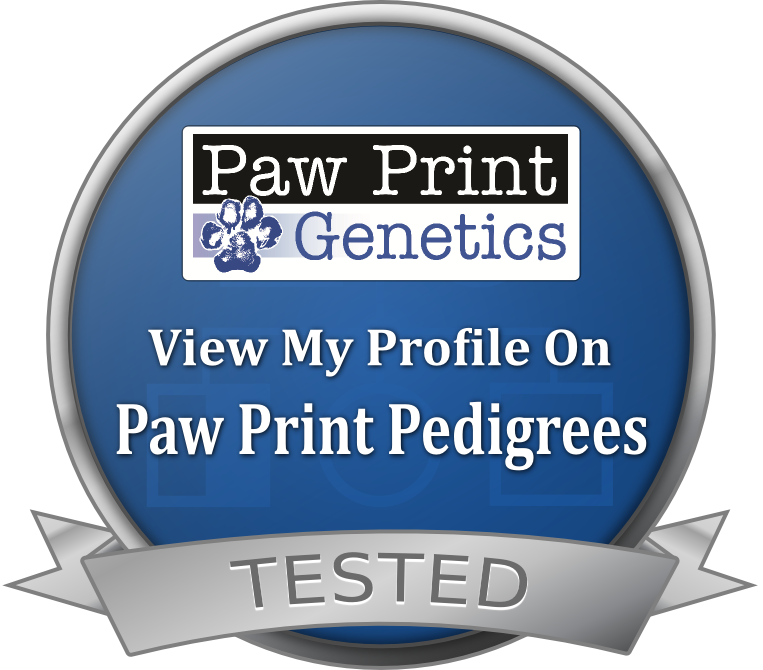 Faith's Color Genetics are: BbdddEE with No agouti expression allowed. View her other genetic test results by clicking on the above Medallion above.
Faith's pedigree can be viewed by clicking here. Her OFA results can be viewed here.